Cavaliers Rookie Deng Adel's Long Road from South Sudan to the NBA
LAKEWOOD, Ohio -- The life of a two-way player in the NBA is anything but stationary. Call-ups, send-downs, bus rides, flights (charter, commercial and otherwise)—the G League's upper crust exists in constant motion. Fortunately for Deng Adel, who's wrapping up a promising rookie season for the Cleveland Cavaliers, that's nothing new.
It didn't take long for a three-year-old Deng to begin a lifelong journey that's taken him from country to country, continent to continent and state to state.
Born in war-torn South Sudan, Deng doesn't remember much from his early years there. His parents had to tell him how he and his five siblings fled to Uganda before emigrating to Australia.
"It's a long process," Deng tells CloseUp360 over spicy garlic chicken wings during lunch at the Winking Lizard (which is ironic because he has a fear of snakes). "We was in Uganda because that's where it was easy to process the visas and stuff to go to Australia. So I remember we had to be there for like two years and stay there."
While Deng likes to say he grew up as an Aussie—he was nicknamed "Babyface"—his top priority is to help the South Sudanese community however he can, especially those who are striving to become great basketball players. He's the latest in a growing line of Sudanese players in the NBA. Manute Bol was the first to make it to the league in 1985, as a second-round pick of the Washington Bullets. Luol Deng followed suit in 2004, as the No. 7 pick of the Phoenix Suns, who then traded his rights to the Chicago Bulls. In 2016, Thon Maker became the No. 10 pick of the Milwaukee Bucks.
Those success stories helped to set a standard and pave the way for South Sudan's basketball passion to become a path to the pros.
"People kinda see us now. It's, like, 'Alright, there's a lot of potential there.' And I think that's what it's come down to," Deng says. "We've always played, but nobody really made it out to lead the way. And I think now, it's just there's a lot of guys in the league or on the verge of trying to make the league or playing oversea. And I think that just [caught] onto South Sudanese players being out there and playing more."
Though Deng went undrafted last year out of Louisville, he aspires to inspire the youth by bringing basketball camps and even an academy to South Sudan.
"I've been in a good position where I've met people that had a big impact on not only my basketball, but just like my life," he says. "I just want to show that they can do it, too, because it's a conflicted country and a lot of people don't see that there's always a bright light out of it."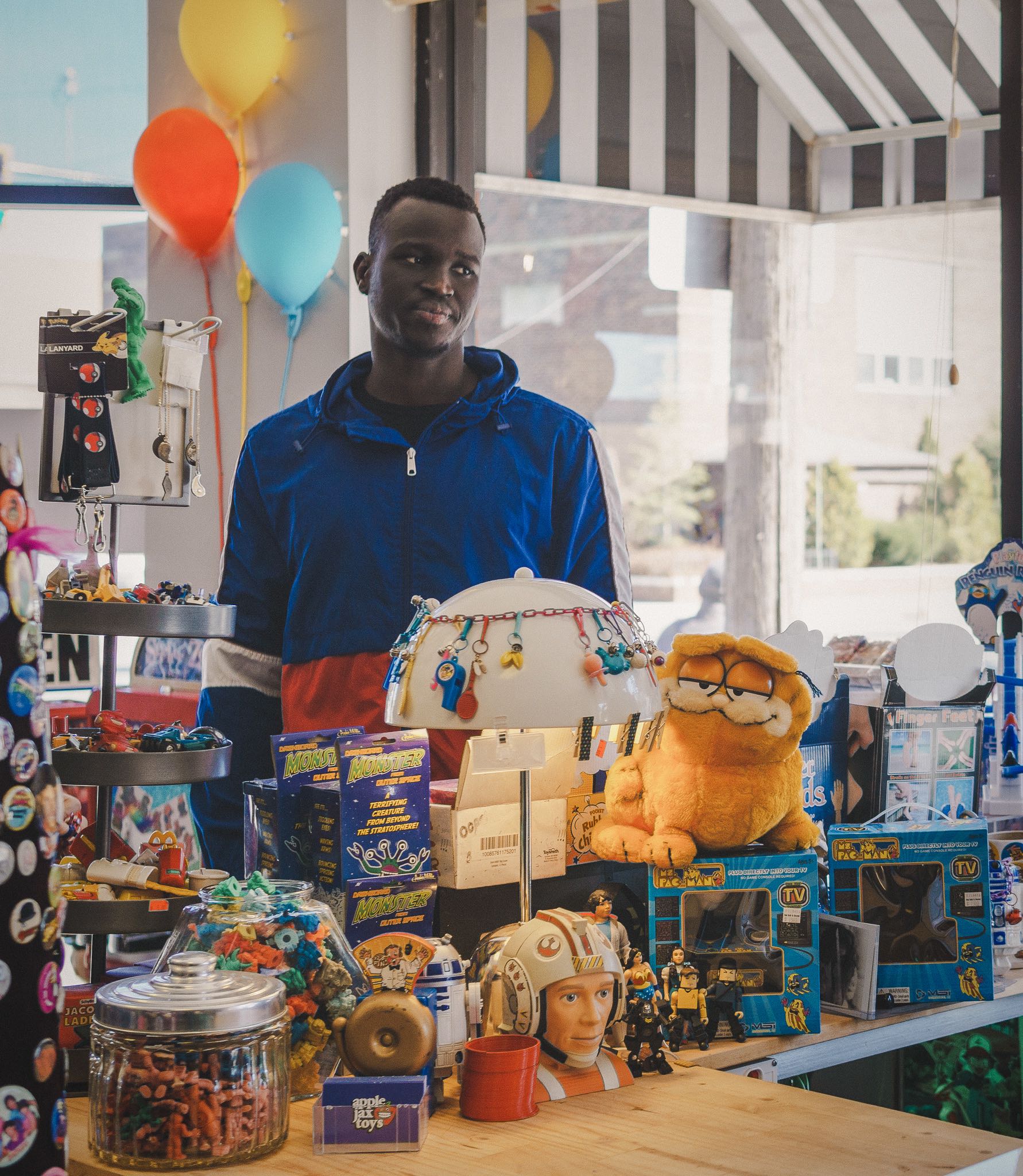 Deng Adel, who explored his love for anime at Apple Jax Toys during an off-day in Cleveland, fled South Sudan with his family when he was three years old. (Kevin Inthavong)
When Deng got to Australia as a child, he had to learn about a brand-new culture. He didn't speak a lick of English. He had to get used to going to class. And he took up sports for the first time, with soccer as his first obsession before switching his focus to hoops.
"I was always, like, 'Man, I want to be the best. I want to play at the highest level,'" Deng says of what drove him in soccer. "When I was younger, I put all my time into it. That's all I did. Practice to practice, class, homework—that's all I did. I didn't hang out like that."
As Deng entered his teens, those close to him steered him towards Longhorn Basketball Club, a program run by head coach Manyang "Manny" Berberi. He was Deng's first true coach in basketball, as he'd been for a number of other South Sudanese immigrants. But Manny did much more than run drills or draw up Xs and Os.
"Always like checking up on all the kids, making sure they were out of trouble, talking to their parents, being close with their parents," Deng says. "He was always there like that, and for me, it was different from any other coach because he cared. He was always giving me feedback. He saw my talent and he was always, like, 'Don't sell yourself short. You can go all the way. Just keep working on your game.'"
In Australia's system of schools and state teams—without American-style AAU programs—sporting politics made it difficult for Deng to compete on a bigger stage there. Instead, he stuck with Manny's squad.
"It was, like, I've just gotta look at the bigger picture," Deng says. "I wasn't worried about making the state team. I wasn't worried about that because I know if I put in all the work and I get better, then I'm just gonna go to the states."
Deng did just that when, for his junior year of high school, he left Melbourne for Bradenton, Florida. Loren Jackson, the founder and head coach at Victory Rock Prep, brought Deng in to be a part of his program. Though they began as coach and player, Loren eventually became Deng's legal guardian.
"I'm away from home, so kinda need somebody to always be in your ear and he always pushed me," Deng says. "I always would have to do extra work. He treated me like I thought he hated me, all that stuff like that. When you're young, you don't see it until you get older, but he really pushed me and helped me out a lot."
Loren also lined up apartment housing for Deng—an upgrade from the accommodations arranged for fellow South Sudanese prospects like DePaul standout Mac Koshwal and Mangok Mathiang, Deng's friend and college teammate, who lived with the coach before Victory Rock Prep first opened in 2013.
Under Loren's tutelage, Deng became a hot commodity in recruiting. He received offers from Connecticut and Florida, but decided instead to attend the University of Louisville.
Deng's move from Australia to Florida helped put him on the radar of college basketball powerhouses, including Louisville. (Kevin Inthavong)
Deng enjoyed his time as a Cardinal, despite dealing with ups and downs. It helped him form friendships with prominent ballplayers—including Louisville native, former NBA veteran and one-time Cavaliers guard Derek Anderson—and forced him to face his own fears.
Take an instance from Deng's freshman year in 2015. Two games into his collegiate career, he sprained his left knee and missed more than a month. During his recovery, he turned to one of his favorite anime shows to help him through the setback.
"I watched Naruto a lot," he says. "I was hurt. So similar to Naruto, he couldn't fight. He got into a bad fight and he got hurt. So he was like just working out every day and just finding other things to do, finding anything that was interesting."
As a kid in Australia, Deng watched other Japanese anime shows like One Piece and Dragon Ball Z whenever he could. He carried that love with him wherever life took him, including an off-day trip to Apple Jax Toys in Lakewood, where he requested some Dragon Ball Z action figures.
"I didn't consistently watch them because sometimes I'd be up early, go work out before school and stuff like that, so I was always missing them," he says. "But I just always liked it. And then once I started getting like in college and I got like free time, just chilling, then I just always had it on my laptop, just watching anime all the time."
Whether he was by himself or with company, Deng constantly streamed episodes. Mangok and the others weren't as into it, but they wouldn't mind sitting down and joining if it was on. From that, they understood why—after any momentum shift or dunk in a game—he celebrated by imitating Naruto's signature run.
"I like Naruto. That's one of my favorite characters," Deng says. "And it was just like whenever I watched it—the run—[with] like my roommates, we always did that just to celebrate around practice and stuff like that. So I was, like, might as well just do it in a game after a big play."
Thought Deng appreciates the art and creativity of anime, it's the relatability to his own life that keeps him coming back.
"The storyline is always like a young guy that's working hard for everything and they face so my challenges," he says. "Like when they get beat, they get so motivated whenever they lose, then they just go back and work on their craft. And they just come back. There's so many levels to that."
Deng has found inspiration in Japanese anime, including Naruto, One Piece and Dragon Ball Z. (Kevin Inthavong)
Despite three strong years at Louisville, Deng didn't hear his name called on draft night in 2018. Instead, he had to carve his own path to the Association.
"It's been pretty unpredictable," he says of his first season as a professional.
Deng's first NBA opportunity came last year in Las Vegas, where the Houston Rockets added him to their summer league team. There, he caught the attention of the Toronto Raptors, who invited the 6'7" forward to training camp in September on an Exhibit 10 contract, which includes a bonus of up to $50,000 if a player signs a contract with the team's G League affiliate upon being waived by the parent club.
After playing in two preseason games in Toronto, Deng joined the franchise's G League affiliate—the Raptors 905—to begin his career. In December, he returned to Las Vegas, where he dominated at the G League Winter Showcase in front of scouts and executives from around the NBA.
Deng had an inkling he'd earn a two-way contract from a team eventually. By mid-January, his hunch was proven right. With a couple of clubs in the mix, his agent, Aaron Turner of Verus Management, informed him of a deal with Cleveland.
On a Sunday winter afternoon, Aaron asked Deng if he could make an early evening flight to meet the Cavaliers in the midst of a West Coast road trip. The newly signed swingman attempted to pack and get there in time, but he missed the trip and flew into Portland the next day. Three nights later on January 19, he made his NBA debut during a 124-102 loss to the Denver Nuggets at the Pepsi Center, cashing his first shot (a three-pointer) in the final minute of the game.
"To be honest, the first time I got in, I was so nervous," he says. "I really thought I was gonna airball because there's so much jitters. Especially being on the road, it's so much jitters and it's like the first time ever being on the floor. But once the ball gets up and the game just gets flowing, you kinda don't even think about it. You just go out there and you just play."
Less than three weeks later, Deng hit another NBA milestone: his first start—against the Boston Celtics, no less.
"[During shootaround], they were, like, 'Deng, switch over to red [jersey],'" he recalls. "I was looking around, like, 'What?' They're, like, 'Yeah, you're starting today.' I was, like, 'Ohhhh.' It didn't hit me until like they did the intros. I didn't realize until like the intros when they called my name."
Deng played his first NBA game against the Nuggets and made his first pro start against the Celtics. (Kevin Inthavong)
There are aspects of living in a suburban hotel south of Cleveland that Deng appreciates, including his proximity to Akron, where Deng Riak and Loren Christian Jackson—both of whom he knew well through his coach in Florida—are playing college basketball for the Zips.
Less convenient is the hour-long commute to Canton for practices and games, just to come all the way back the same day. On nights that the Cavaliers land home after traveling, Deng is faced with a familiar ultimatum.
"We're gonna have practice at like 11 [a.m.] in Canton," he says. "When I get back to the hotel, I can either get an Uber down to Canton the same night, get down there at maybe like 1:30 [a.m.] or something and then just stay over there, wake up and go to practice. Or stay the night at the hotel and then go up in the morning."
The constant on-the-go routine has admittedly worn on him—not that it took a toll on Deng's production with the Charge. With two big shots in an eight-day span, he became a clutch performer for the club.
The first was a midrange fadeaway to top the Greensboro Swarm, 96-94, and end Canton's eight-game losing streak.
The second gave the Charge a 116-114 win over the Raptors 905, Deng's old club.
"I was on the floor celebrating," he says with a smile. "I looked at the bench. I was yelling at them because, you know, that's funny. That was awesome, that was fun."
As much as Deng enjoyed his moments of G League stardom, he far prefers a smaller role in the NBA. There, he's strengthened bonds with his fellow Aussies—Matthew Dellavedova, his teammate in Cleveland, and Utah Jazz wing Joe Ingles, his role model and occasional workout partner back home.
"It's different because at the end of the day, that's where I want to be. I want to be in the NBA," Deng says. "So for me, I love when I'm out there more with the NBA team because you learn so much from scouting, you learn so much how guys' routines are and then you can play against the best players in the world, so that's exciting.
"I'm a competitor. It's nice. I'll be out there guarding Zach LaVine or Bradley Beal or I might be out on Kyrie [Irving], or switched out or something. For me, that's the best part about it."
Spencer Davies is a veteran NBA writer based in Cleveland. Follow him on Twitter.