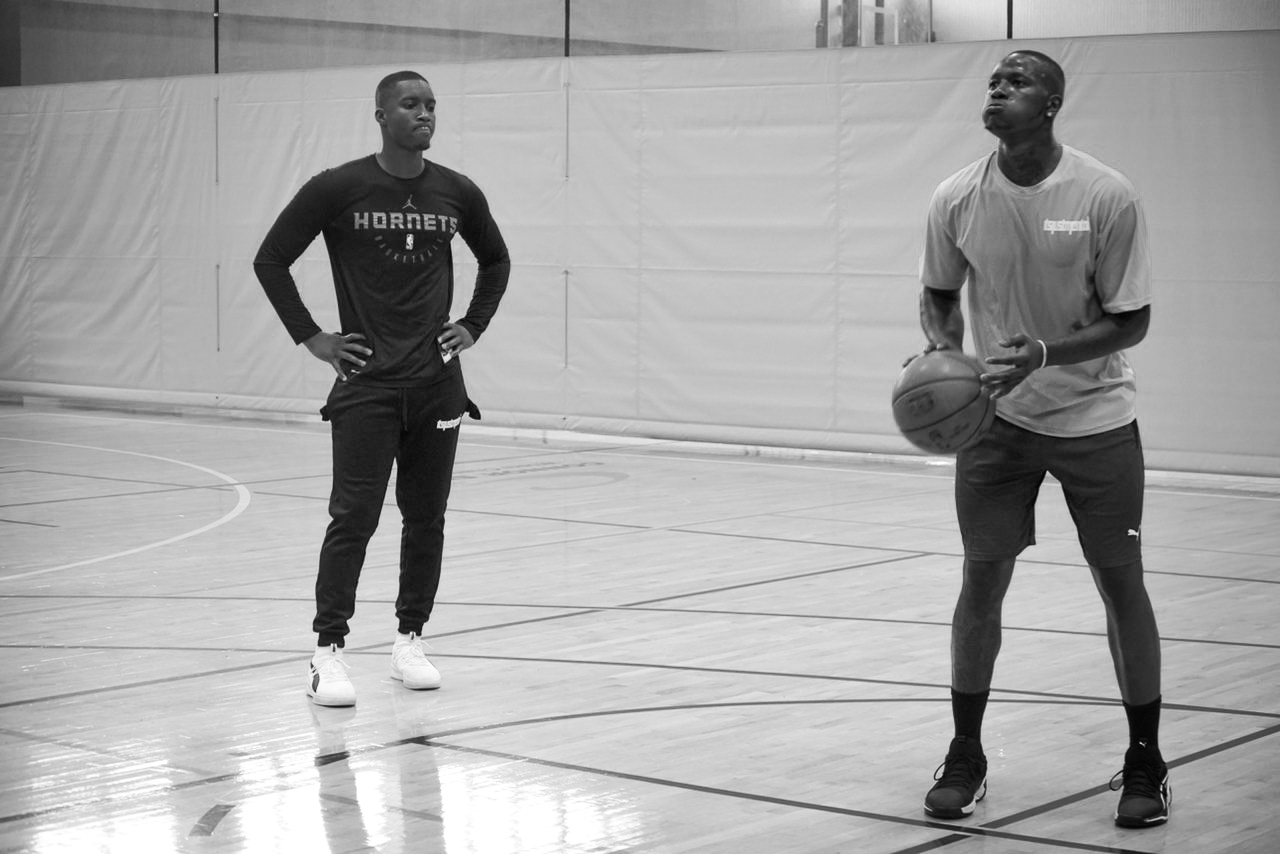 For Hornets' Terry Rozier, Anthony Wells is Much More Than a Basketball Skills Trainer
MIAMI -- Terry Rozier's rookie season in the NBA left plenty of room for improvement. After averaging 1.8 points in 39 appearances for the Boston Celtics during the 2015-16 season, the former Louisville point guard returned home to Cleveland to catch up with family and friends, and plot his next move. During a family gathering that summer, Terry reconnected with an old friend, Anthony "Ant" Wells, whom he promptly roped into his plans.
"I told him, 'Yo, you are going to work me out tomorrow.' I just told him, like that," Terry recalls to CloseUp360. "From that day on, we never looked back—we always worked out and that just was what it was. Me looking up to him and everything—that goes with it and knowing that we have that respect for each other."
Terry had long admired Ant's game. As an aspiring middle school hooper, Terry practically idolized Ant while the latter was starring at Shaker Heights High School in suburban Cleveland. It didn't take long for word of Terry's imitation to reach Ant.
"A lot of people were always talking about, 'Your little brother, your little brother, he can play,' and I don't have a little brother," Ant says. "So I'm, like, 'Who is this kid they talking about?' 
"So we went down to the middle school at the time and checked him out. He was good. I just took him under my wing from that point on. It wasn't training. It was just a brotherhood."
By the time Terry arrived at Shaker Heights as a freshman in 2009, he was good enough to play on the Raiders' varsity boys' basketball team—just in time to run with Ant as a senior.
"It was unreal to me at the time. It was him and D-Wade as the two guys I looked up to," Terry says. "Then, from that point on, we just kept growing."
The pupil has since surpassed the master, and then some. With Ant's guidance, Terry became a key contributor for the Celtics—especially in Kyrie Irving's absence during the 2018 playoffs—before signing a three-year, $56.7 million deal with the Charlotte Hornets this past July.
"Now, I'm in the position I'm in," Terry continues, "and it's, like, who else would I want to work with me besides the guy that I always looked up to, knows my game? We respect each other and he cares about me."
Anthony Wells (left) and Terry Rozier have been friends since they were teenagers in Cleveland. (Courtesy of Anthony Wells)
Ant never made it to the pros, let alone to the point of an eight-figure contract in the NBA. But his background in basketball has proved plenty valuable in other ways. 
As a player, he peaked in college at Cleveland State and Indiana University of Pennsylvania.
"I wasn't good enough to make it to the highest level. I had some injuries," Ant says. "Things just didn't happen in my favor that way."
After college, Ant found ways to stay close to the game, including a stint as a coach at Shaker Heights. Teaching the game came naturally to him. 
Still, he wanted to influence basketball at the highest level and recognized the need to reinvent himself to get there. Coaching brought him back to his basketball roots, and training turned out to be a pathway towards the top. 
"Honestly just staying around the game—that was the best thing for me," Ant says. "Training was my next thing and then I just found a passion for it instantly."
Diversifying in a crowded space has been the key to Ant's success. Posting workout clips to Instagram isn't his style. Instead, he employs a training philosophy that is more interactive and direct.
"I like game-style reps. I'm not a two-ball guy," Ant explains. "No disrespect to guys who do that, but I feel like if you're not going to use two balls in the game, why would you bounce two balls in training?"
His sessions are heavy on pick-and-roll reads, with multiple bodies on the court to force his clients to make decisions as if they are in a live game. On defense, he'll have his trainees beat their marks to spots and stress the importance of tagging—principles he credits to his time around the Celtics' training camps in 2017 and 2018, when Terry was on the rise in Boston. 
"I learned a lot from coach Brad [Stevens] and his staff," Ant says.
Ant and Terry both attended Shaker Heights High School in suburban Cleveland. (Courtesy of Anthony Wells)
So, too, has Terry continued to learn from Ant. The two share a mutual respect, fortified by years of friendship that seem immune to erosion. Contracts and payments don't dominate their discussions. Ant says they just enjoy each other's company and focus on the work they need to do. 
Ant now calls Terry his favorite player and, like a good friend and trainer, would rather not take credit for his understudy's success. He insists that his work with Terry is occasional, cosmetic fine-tuning. 
With Terry set to take on the largest role of his NBA career this season, Ant's influence will also grow.
"He always had game. No trainer in no way, shape or form could make a player," Ant says. "That 'Scary Terry' year, it was just a joy to see him playing at that level. I'm looking forward to helping his additional growth in Charlotte." 
The two interact frequently after games and practices in season, and are attached at the hip in the summer, but Ant has other clients firmly in the fold—thanks in no small part to Terry. Antonio Blakeney, who spent last season with the Chicago Bulls, started working with Ant when the former was a budding high school star visiting Terry.
"I used to come down to Cleveland to work out with Terry. Then Ant and I would always have conversations, and come back late at night and work out," Antonio recalls. "We just ended up becoming real cool, our chemistry. We were kind of going through the same thing—that come-up-from-the-bottom mentality."
Antonio credits Ant for helping him improve his three-point range and ability to finish at the rim this summer. The trust is blind because basketball is almost secondary to the relationship.
"Whatever he tells me to do, I do," Antonio says. "When you're in the NBA, even though you got money, you still go through stuff, your trainer is who you are going to be with most of the time, especially if you're a gym rat. I know I can call Ant for anything and get his true input."
Through the Verus Management team—the agency that represents Terry's basketball interests—Ant connected with Derrick Jones Jr. The high-flying Miami Heat forward started working with Ant this summer, hoping to improve all aspects of his game.
True to Ant's style, Derrick also played the full season in the Miami Pro League as a means to perfect all of the summer's work in real time. Ant attended every game and provided feedback for Derrick. Ant's presence and willingness to speak openly about what he sees has boosted Derrick's confidence coming into the 2019-20 season.
"I always told him, 'Don't bite your tongue about anything. If there's something you got to say, then say it,'" Derrick explains. "We actually have a grown man conversation. We go back and forth, and then we meet in the middle somewhere. There has never been anything like that, so Ant's been that guy for me."
Ant's honesty comes through in conversations with his players. But, in truth, they're more than a clientele; they're a brotherhood in ball, with a love for the game that's trumped only by the respect that exists between trainer and trainee. Ant listens to them and offers his thoughts as needed. He's not itching to give his opinion just to hear his own voice. 
"I let the work speak for itself. I'm not the kind of guy that wants to come in and tell them how hard I work," Ant says. "I want to show them how hard I work…I don't just watch and point the finger, but I get out here and I get after it as well. If guys are doing squats, I'm squatting. If you are sprinting on the treadmill, I'm sprinting."
That mentality has helped him land training sessions with Jaylen Brown, Kevin Knox and Bobby Portis, among others. While Ant is interested in growth—including expanding into the WNBA—he's cautious about getting too big, too fast, before his core work is done with his immediate group. 
"Right now, I want to focus on working with individual guys, especially with Terry," he says. "His career is getting to where we want it to be as far as the opportunity to start for a full season."
Antonio and Terry believe that others around the NBA see the bond and on-court improvement and would like to join the crew, but for now, the circle remains tight. 
"No new friends," Terry jokes. "We've always been on that."
Ant recognizes how the training industry has "blown up," and while the space is getting crowded, he's thankful for the opportunity to earn a living doing what he loves. 
"I see more and more guys training, and I'm glad to see where it's going, honestly...When I was coming up, there was no trainers. I played ball. I've never had a trainer," Ant remembers. "I'd ask my mom to send me to a camp in Detroit or something and it was $600. No way that was happening.
"Now, every team has a trainer, everybody has a young guy on the team who's in the gym assisting guys like myself."
Ant has grown his clientele, but Terry remains his main focus as a trainer. (Courtesy of Anthony Wells)
Nearly a decade since he and Terry became high school teammates, Ant is as big of a basketball junkie as ever. After workouts with Terry—where he's omnipresent as trainer, defender, roll man and shooter in various drills—he sometimes works with Terry's agent, Aaron Turner, on skill development exercises as well. 
For Ant, building meaningful relationships with his clients is more important than becoming a social media celebrity.
"I can't speak for other trainers, but I know some guys go in there and they are, like, 'I'll be there from 12 to 1,' and that's it," he says. "We don't work like that. As long as my guys are getting better. I'm pushing them, they are pushing me—we just get it done like that."
Now a half decade into his journey as a trainer, Ant has established his own brand, It's Just Mental, the motto by which he and his clients live. 
"It's not just related to sports. Whatever you're doing in life, it all comes back to your mental. You have to put your mind to it, like the old cliche saying," he says. "We put it on merch, have the guys wear it and just have a good time with it."
Ant, though, isn't making moves so he can keep up with Terry. The former player has transformed into a relatable trainer, but his ability to never change as a friend is his greatest skill of all.
Warren Shaw is a veteran NBA writer based in Miami. Follow him on Twitter.