Meet the European Shooting Guru and 'Tele-Coach' Who's Helped Brooklyn Nets' Turnaround
BROOKLYN -- A success story as surprising as the 2018-19 Brooklyn Nets has many authors. From D'Angelo Russell's emergence as an NBA All-Star and Joe Harris' ascendance as the All-Star and season three-point champion, to Kenny Atkinson's hard-working coaching staff and Sean Marks' resourceful approach to roster building, the Nets all but shed the baggage of their failed 2013 trade with the Boston Celtics far faster than anyone expected en route to a stunning playoff berth.
Whenever this run ends—during or after Brooklyn's matchup against the Philadelphia 76ers in the first round of the Eastern Conference playoffs—there's at least one key contributor who isn't likely to land in the footnotes, and can't currently be found in the team's directory. His name is Stefan Weissenboeck.
"Stefan is different than a lot of coaches I've had," Nets wing Caris LeVert tells CloseUp360. "He focuses on balance, even on how you grab the basketball, to how long my nails are. He's detail-oriented. That's why I like working with him. He's a great instructor and teacher."
"I think I have improved the form of my shot. He has helped me become confident in how I shoot," Brooklyn big man Jarrett Allen says.
"He saw a lot of things I needed to work on my shot. I think it really improved my shot," Nets guard Treveon Graham says. "Getting a lot of more arc on my shot, getting my shot off more quickly—things that you need to do when you're in this league. I think that he took my game to the next level."
For someone who's helped as many Nets players as he has, Stefan has maintained a relatively low profile. That's as much the byproduct of Brooklyn's organizational discretion as it is of a unique arrangement that has allowed the Austro-Czech-born coach to consult with his New York City pupils from across the pond, as well as Stefan's own connection to hoops pedagogy.
Stefan Weissenboeck has a history of helping professional teams engineer organizational turnarounds through player development. (Courtesy of Brose Bamberg)
Growing up in Mistelbach, a picturesque town along the border between the Czech Republic and Austria, Stefan was all but destined to teach in some capacity. His parents—an Austrian father (Gerhard) and Czech mother (Marie)—were both teachers, and his brother, Martin, eventually followed suit.
"Teaching seems to be what's in me," Stefan says.
But he resisted following in his family's footsteps. He wanted to chart his own course in life. His 6'5" frame helped him do just that.
Stefan blossomed into a shooting guard for his hometown team, UKJ Kaufstrasse Mistelbach, in Austria's first division, before leaving Europe in 1995 to try his hand at college basketball in America.
After a year at Hawaii Pacific University, Stefan returned to Austria, where he won three league championships and one domestic cup in four seasons with St. Polten, and played for the Austrian national team. He went on to win another Austrian cup with the Arkadia Traiskirchen Lions and hop between clubs in Portugal and Germany, before the effects of knee and back injuries forced him to retire in 2004. He transitioned out of his playing career into physical therapy, working with injured athletes, and eventually dabbled in coaching, mainly with youth basketball teams.
In the summer of 2009, while coaching a youth program in Nuremberg, Germany, he got a phone call that would change his life. It was Chris Fleming—then the head coach of Brose Bamberg, one of the best teams in the Basketball Bundesliga, Germany's top pro league—with an offer to interview for a player development coaching position.
"I told him, 'Come to Bamberg and teach me how to shoot,'" Chris recalls. "So he came and spent an hour or two teaching me how to shoot. After that, I was convinced: this guy knows what he's doing."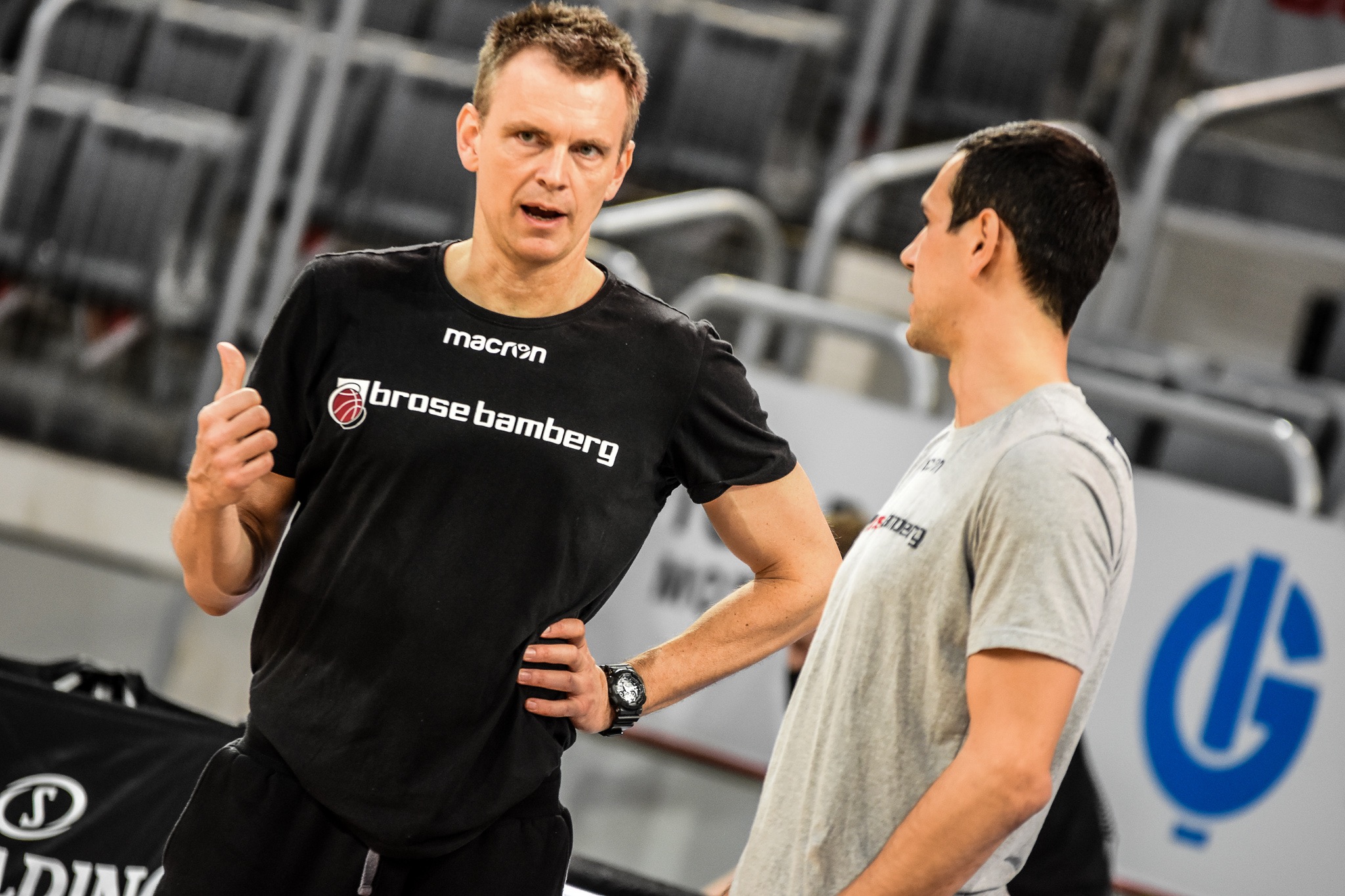 Stefan got his start in coaching professional basketball with Brose Bamberg of Germany's Basketball Bundesliga. (Courtesy of Brose Bamberg)
Chris and Stefan helped Bamberg win four German league championships and three domestic cups in their five seasons together. Along the way, they built up Bamberg's reputation in player development. During that time, the team sent players to top EuroLeague teams as well as to the NBA, including Brian Roberts and P.J. Tucker.
"Stefan helped me a lot with my shot, the balance of my shot," P.J. told Hoops.co.il. "He worked with me every day. For sure that was part of me coming back [to the NBA in 2012]."
After a brief split from Bamberg following the 2013-14 season, Stefan was hired back in March 2015 and promoted to head of player development under new head coach Andrea Trinchieri. Stefan no longer had to travel with the team and could focus almost exclusively on individual work with players.
"I became more productive and could concentrate more on working, being on the court and less in planes and buses," Stefan says.
Those years under Andrea saw Stefan steward more players to the NBA, including Darius Miller of the New Orleans Pelicans, and Boston Celtics players Daniel Theis and Brad Wanamaker.
"Every day, we were watching a few clips, and he'd just show me some places that I dipped the ball, or my feet weren't settled in a shot and we would go in an hour and a half before practice and just work on it," Brad says. "He was big on my improvement in shooting. A little minor adjustment is something that can take you a long way."
During the summers, Stefan kept busy by privately training promising European players, some of whom also matriculated to the NBA. He had long worked with a towering Austrian named Jakob Poeltl, dating back to when Stefan coached the eventual No. 9 pick of the Toronto Raptors in the 2016 draft on the U14 Austrian national team.
"It's great that we have that connection, that I know him from when I was way younger," says Jakob, who was traded to the San Antonio Spurs last year. "It's really helpful that he has seen me play for that long and he knows my game that well so he can give me very detailed advice."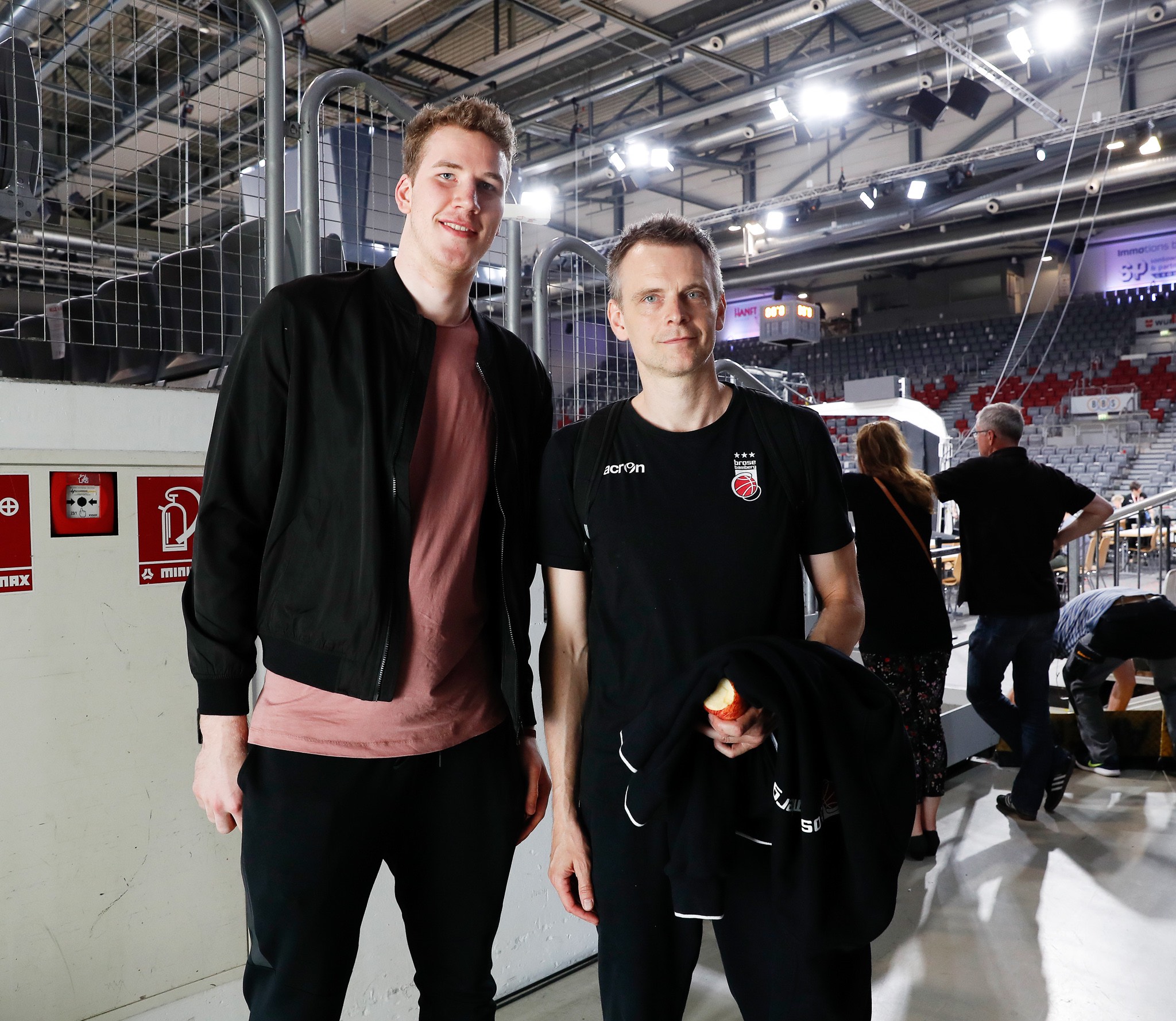 Jakob Poeltl and Stefan have worked together since they were player and coach on Austria's U14 national team. (Courtesy of Brose Bamberg)
Stefan's reputation in Germany helped to attract players who weren't already in his purview. He helped sharpen the shot of Paul Zipser, who spent two seasons with the Chicago Bulls from 2016-18, and fielded requests from Maxi Kleber, an athletic big man who played with Paul for FC Bayern Munich—one of Bamberg's biggest rivals.
"I wanted to work with Stefan because he is one of the best when it comes to shooting," says Maxi, who joined the Dallas Mavericks in 2017. "He is very open...very patient, takes notes and videos, and does his work very carefully. I learned about hand positioning, where my elbow should be, body positioning. We worked on a lot of things and tried to adjust everything. Probably too much to make a list.
"It's just his ideas, his exercises, that make him special. It's different from other coaches."
In the summer of 2017, Stefan put his coaching skills to work in service of someone already in the NBA: Washington Wizards guard Tomas Satoransky. The following season, he nearly doubled his three-point percentage (from 24.3 percent to 46.5 percent), while emerging as a trusty contributor in the nation's capital.
"We go into very small details, which I actually need," Tomas says. "With him, we focus on every detail in the shooting. It's great to have someone that you can slow things down and talk about details. It helped me a lot."
Stefan, though, is reluctant to take credit for Tomas' success or that of any of his other clients, for that matter.
"I'm the co-driver, he's the driver. I'm just holding the map," he says. "The player deserves the credit for the improvement because he gets it done."
Stefan helped Tomas Satoransky nearly double his three-point percentage between his rookie and sophomore seasons with the Wizards. (Courtesy of Brose Bamberg)
Last summer, Stefan once again got a call that would change his life. Another team wanted his help rebuilding a depleted roster by coaching up diamonds in the rough. But rather than serve in that capacity for a struggling European team, he would do so in Brooklyn, where Chris had been an assistant coach since 2016.
Stefan ultimately agreed to a unique arrangement with the Nets: he would fill what seemed to be the first "tele-coaching" position in the NBA. Since then, he has continued to work full-time with Bamberg while flying to the U.S. every 4-6 weeks or so to spend several days doing targeted individual workouts with specific Nets players. In between these meetings, he keeps in touch both with Brooklyn's players and coaches by sending them video clips with pointers.
"When he is here, we work on the things that he's seen in me from the last month when he was gone," Treveon says. "And even when he's gone, he sends the coaches or me clips, like 'you didn't jump high enough here', 'you weren't balanced there,' and it's like he's here."
"I don't think any player wants someone constantly pounding them on changing their shot, especially during the season," Jarrett says. "That can be really detrimental to a player, so I think the front office has done a great job in the timing of him coming in."
Stefan's tele-coaching has also come into play with Caris. The 20th overall pick in 2016 had been enjoying a breakout campaign to start this season before a gruesome leg injury sidelined him for nearly three months. While Caris has worked most closely with Nets assistant Jacque Vaughn during his rehab, Stefan has consulted from afar, drawing on his own injury history in the process.
"It's a huge, beautiful hope that you can give people," Stefan says. "'Hey listen, 'You can do it, you can come back, I was there, I had the same thing and I got back to playing.' These are experiences I was able to pass on and try to help people."
It's one thing for German- or Czech-speaking players like Tomas, Jakob, Maxi and Paul to accept Stefan's advice. But why would American NBA players give someone who flies in from Europe for a few days such a privilege?
"For one, by showing me his shot right there," Treveon says. "Because if you can't shoot, how can I know I can trust you? His shot is flawless. Gave me confidence that he knows what he's doing. Stories as well—other coaches have told me about him. Nothing but good reviews when I asked people about him."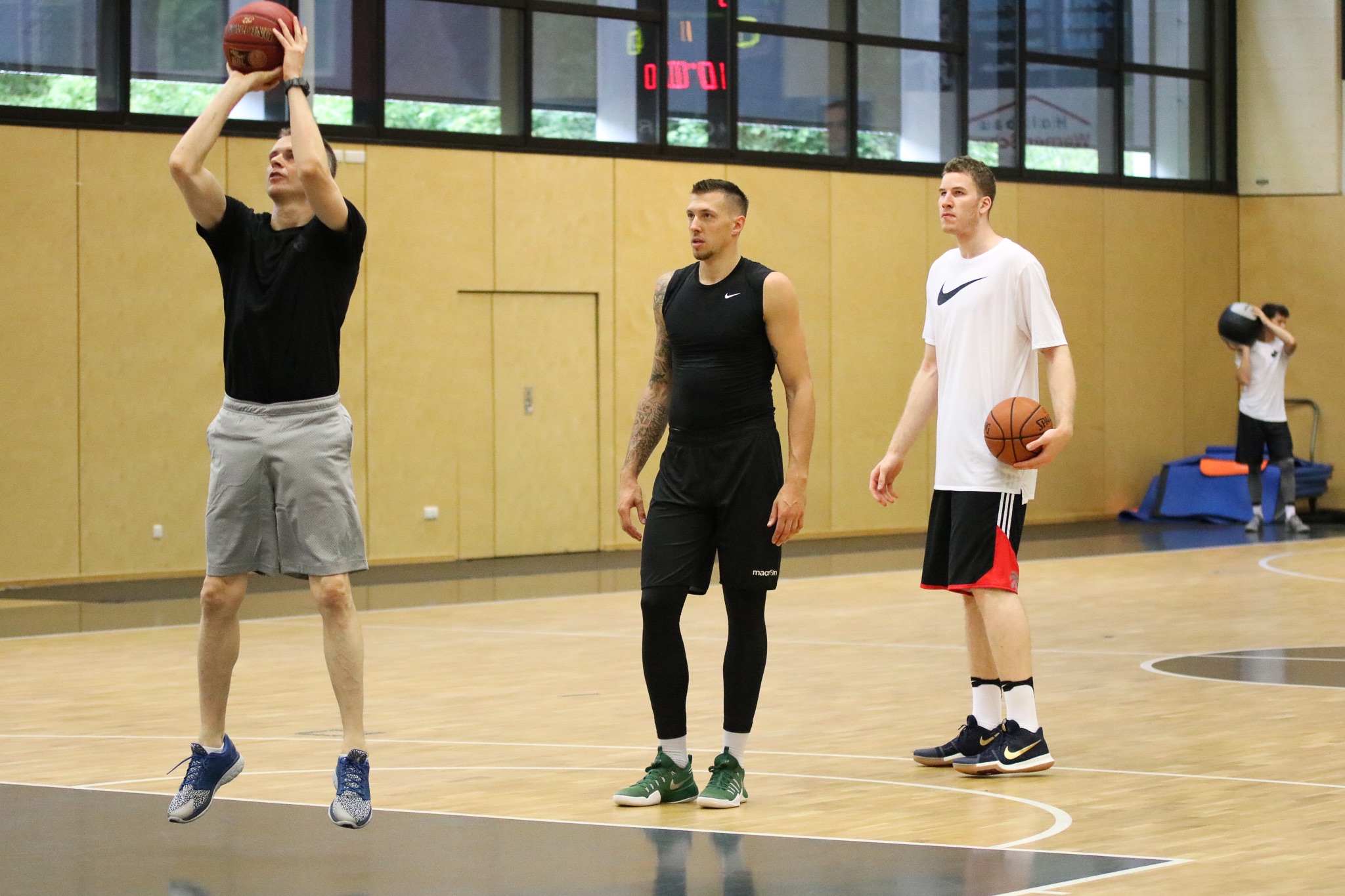 Stefan's success with European players and picture-perfect shooting form helped him build credibility in the NBA. (Courtesy of Brose Bamberg)
For Stefan, though, the growth of his reputation comes from much more than just doing. Sure, shooting a perfect shot shows that he can walk the walk, but it's the ability to talk the talk that has allowed him to make the leap across the Atlantic.
"He's elite at understanding the mechanics of shooting, but his best quality is not that," Chris says. "His best quality is that he understands the player. He understands the mentality of the player, and that's what makes him special. He figures out ways to talk to each guy in ways that are helpful to him."
"The player deserves the credit for the improvement because he gets it done," Stefan says. "It would be very very bad to try to put myself above the player, try to make myself more important than him. That might be one part why players enjoy working with me. They feel that they always remain the most important part, and I love that, too. So basically, I try to avoid things that I didn't like as a player."
It's that relatability, combined with his knowledge of the game, that has allowed Stefan to rise through the basketball ranks, even long after his playing days—and despite his own admitted reluctance towards becoming a coach.
"My dad is a teacher. My mom, too. My brother, too," Stefan says. "So I always said, 'No, I'm never going to be a teacher, and not a coach for sure!'
"But here I am."
Yanir A. Rubinstein is the Washington D.C. correspondent for Israeli NBA magazine Hoops.co.il and a writer for Bullets Forever.